WE WILL CUSTOMIZE A PLAN TO FIT YOUR NEEDS
Based in Yadkinville, North Carolina, Pioneer is a regional provider of:
Paper shredding services and document storage services to all types of businesses including court systems, municipalities, governmental agencies, hospitals, long-term care facilities, medical clinics, public and private businesses, charitable organizations and private individuals.
On-Site and Off-Site paper destruction services using state-of-the-art mobile shredding equipment.
Secure Climate Controlled Document Storage services in a 15,000 ft. building located at 1300 Unifi Industrial Rd, Yadkinville, NC, that utilizes a bar coding system to provide on-demand customer file retrieval options.

Self-Service Storage services in facilities owned by an affiliate of Pioneer that permit 24/7 access to customers assigned individual codes that control and operate gates in the perimeter security fences.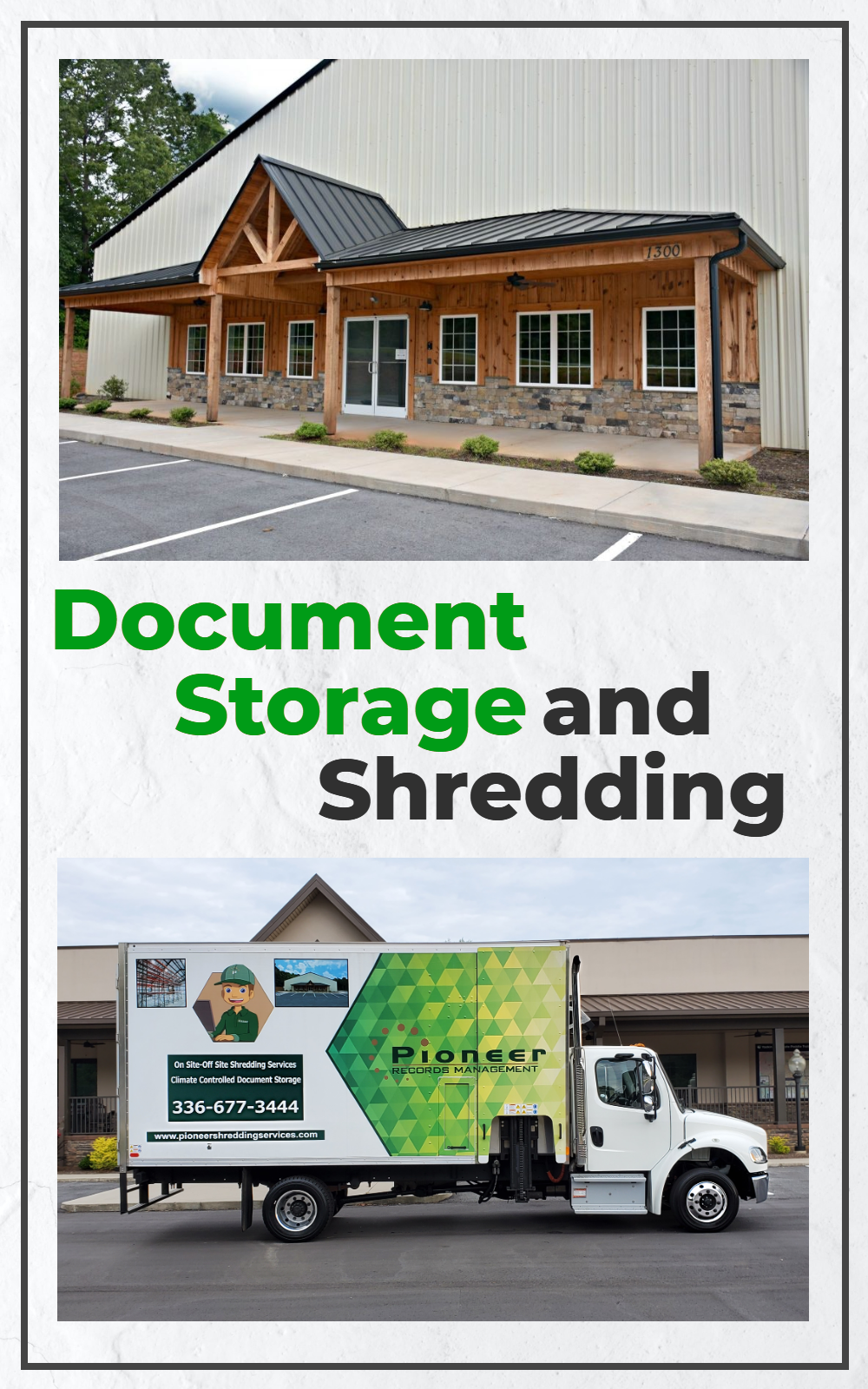 Our high capacity consoles and bins can be used to reduce floor space needed for your discarded paper storage, provide enhanced security for your discarded paper documents and increase office productivity. Pioneer offers both on-site and off-site destruction services to best address your specific company's needs.
Pioneer's mobile shredding equipment can handle all of your document destruction needs in a process that protects both you and your customers' proprietary information.
Pioneer offers a variety of destruction services. Whether it is a one-time purge of documents to free up your storage space, or an ongoing scheduled pick up, Pioneer will customize a plan to fit your specific need.
On-site and Off-site Services Options

One-Time Document Purges

Scheduled Monthly or Weekly Service Agreements

Certificate of Destruction for Destruction Completed Under Dual Control

Pioneer is an environmentally friendly company; all shredded paper is 100%

Recycled
Free up valuable office space and find a permanent home for your original documents and inactive records.

Accurate and secure document storage isn't just smart business. It's often a legal necessity depending upon your organization. And with the increasing amount of legal requirements you must comply with, finding space for inactive records can be expensive. Sacrificing other more productive uses for that space is even more expensive.

Pioneer provides cost effective document storage solutions for your important personal and business records. Whether it's Financial, Personnel, Healthcare Related or Personal Records, using Pioneer's Secure Climate Controlled document storage services will allow you to free up valuable space for more productive uses.

Our Secure Climate Controlled Storage facility is located at 1300 Unifi Industrial Road, Yadkinville, NC. A state-of-the-art document storage and retrieval system enables your documents to be stored and provided to you on-demand in paper form or electronically.

We understand that sometimes off-site boxed document storage may make the most business sense. That's why we dedicate 12,000 square feet in our facility to provide one of the safest secured off-site document storage facilities in our service area.

Your documents will be safe with us! You won't have to worry about them being damaged by humidity, temperature, mold, or fungus!
          Some of the features you get with Pioneer document storage services include:
Security


Our facility is protected by a 24-hour security system. In addition, our facility and staff adhere to a strict data security policy, and all employees are bound by confidentiality agreements.

Pickup and transfer of files


On the day and at the time you arrange, your document storage boxes will be picked up at your office(s) and transferred to our secure facility by trained company personnel. You can be confident that your documents will be safe and well-protected during this process.

Advanced database tracking


Upon arrival at our storage facility, each document storage box will be identified by a name and number that is entered into a database that assigns it a specific location on our shelves. This assigned location is used to track the usage or any document retrievals relating to each box you have in storage. This assures that your documents can be easily located and quickly retrieved when requested.

Same-day file retrieval
Need a file retrieved? Not a problem. We offer same day retrieval of your documents.
Convenient monthly invoicing


On a monthly basis, we will send an itemized bill listing any activity charges and your per box storage costs for the month.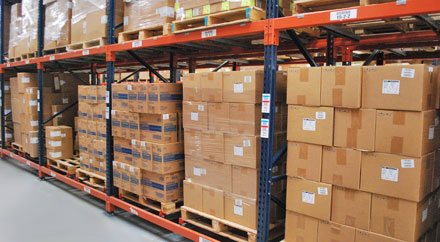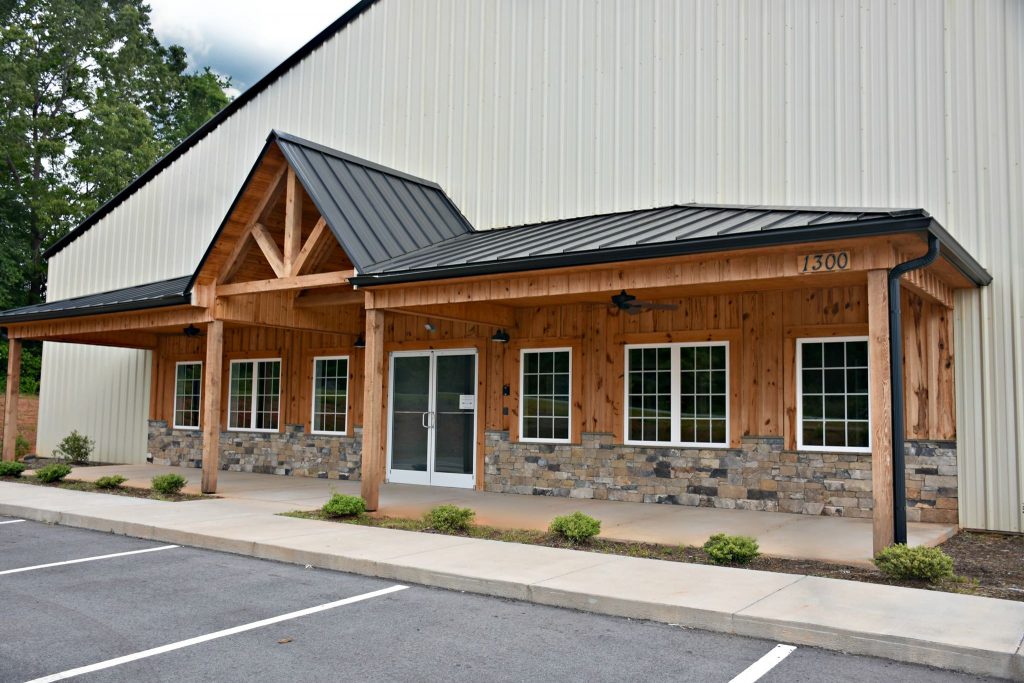 REGAL ERGO CONSOLE-35" HIGH
Effective Paper collection and document storage starts here.
Feature 1

Capacity: Up to 90 lbs of material.

Feature 2

Patented door mounted paper guard.

Feature 3

Heavy duty flat bottom fabric bag for years of use.
Feature 4

Piano hinge allows door to open 180 degrees.

Feature 5

Spring loaded automatic locking door for security; close it & walk away

Feature 6

Patented Steady Hooks support up to 200 lbs.
Our console is great for customers with limited office space. This is a 45 gallon console that can hold up to 90 lbs. It has a door mounted paper guard as well as a heavy duty fabric bag for years of use. Our consoles have a spring loaded security lock that locks when the door is closed. This feature allows anyone that is authorized to open the console to just close the door and walk away when finished
The Most Secure Lid in the Document Destruction Industry.
Feature 1

Capacity: 65 gallon bin that holds up to 230 lbs of material.

Feature 2

Molded-in deflector on underside of paper slot blocks visibility and access to contents. 

Feature 3

Container lid covers base of the rim, preventing entry at lid corners to maximize content security.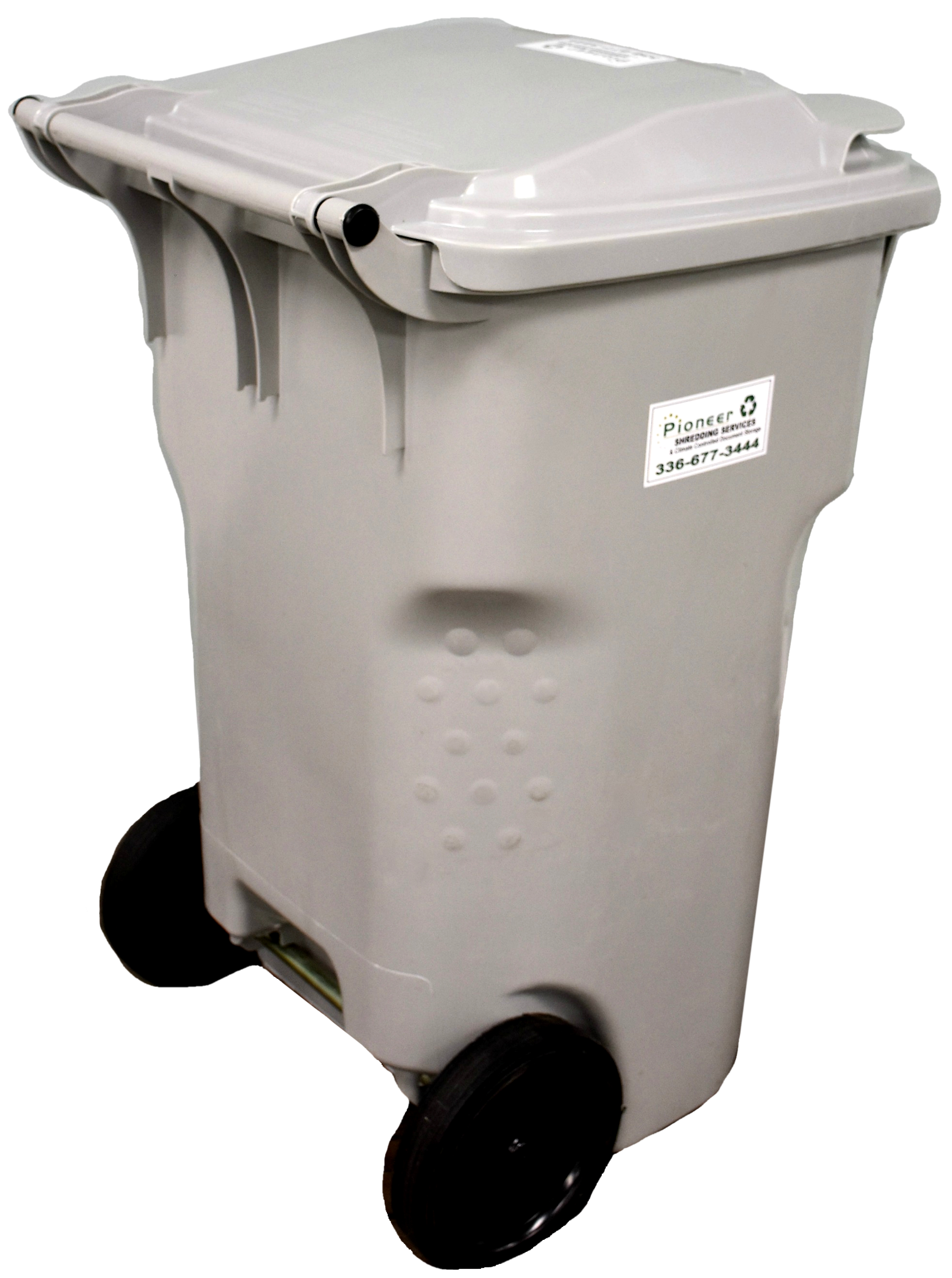 Feature 4

10" wheels for a quiet and stable ride.
The most secure Lid in the Document Destruction Industry is used on our 65 gallon bin. Each bin has a storage capacity of 230 lbs. There is a molded-in deflector on the underside of the paper slot for physical/visual blockage. The container lid covers the entire base of the rim, preventing entry into the lid corners. We will also provide a lock and key for each bin assigned to the customer.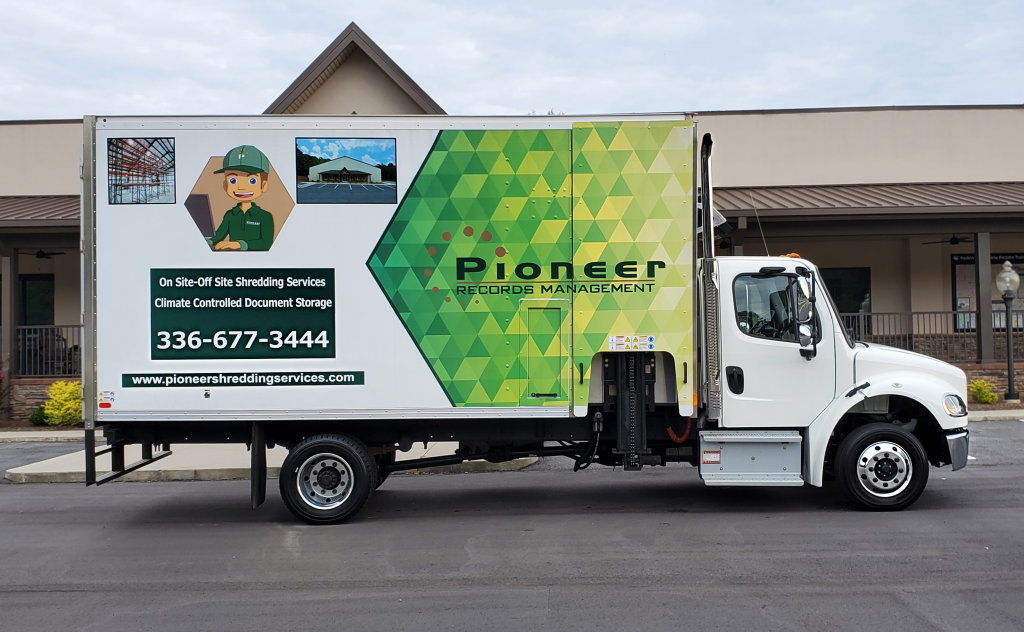 Witness the Destruction to Pieces Onsite
Secure Onsite or Offsite Shredding is an ideal solution for organizations that require the immediate or witnessed destruction of confidential, copyrighted or royalty-based documents directly on premises. Our secured shred bins and consoles are designed to keep your documents secure until we arrive at your doorstep to dispose of your sensitive documents. Pioneer removes the hassle that comes with document destruction using best practices and systems to secure sensitive customer documents during the process.
On-site Destruction Services
To ensure confidentiality, and in some cases, to comply with the law, you must destroy certain documents at the end of their lifecycle. Pioneer can help your company reduce the risk of unauthorized distribution of sensitive and critical company documents. Our secure document-shredding insures against privacy infringement by unauthorized individuals. We protect your privacy and assure your compliance with HIPAA and other state and federal privacy laws. Compliance is essential in today's business world and our system is designed to assure that your sensitive information will not fall into the wrong hands.
Shredding services that are completed while being observed by a customer designated/provided witness may be provided with a Certificate of Destruction. All shredded paper is 100% recycled!
Give us a call today to get more info about our Shredding Services or our Document Storage Services. Let us work out a plan to help you take back control of the space in your office or basement!
Click on the photo below to view a larger version of it.
If you have questions or would like to know more about what we do, please fill out the form below and we will be glad to help any way we can. 
1300 Unifi Industrial Rd, Yadkinville, NC
PO Box 969
623 W. Main St
Yadkinville, NC 27055
For more information or to ask us questions please contact us using the information below. 
I would like to introduce myself; my name is Danielle Anderson. I am the Sales/Operations Manager for Pioneer Shredding Services located in Yadkinville, NC. Pioneer offers a variety of destruction services (paper shredding) and document storage services including periodic one-time purges of documents to free up your storage space as well as ongoing scheduled monthly or weekly service. We also offer "Shred Days" sponsored by community and charitable organizations that can be marketed as community services or fundraising projects. If you are required to keep files and documents in compliance with your industry standards but have limited storage space, we can help you with that as well. Pioneer's Secure Climate Controlled Storage facility is available to store your records and files and our affiliate, Crystal Self Storage, has competitively priced self-storage facilities available to store documents and personal property that do not require storage in a climate controlled environment. I will be glad to customize a plan that fits your needs. If you would like to set a date and time for a quick overview of Pioneer's services, please feel free to email or call. Hope to talk with you soon!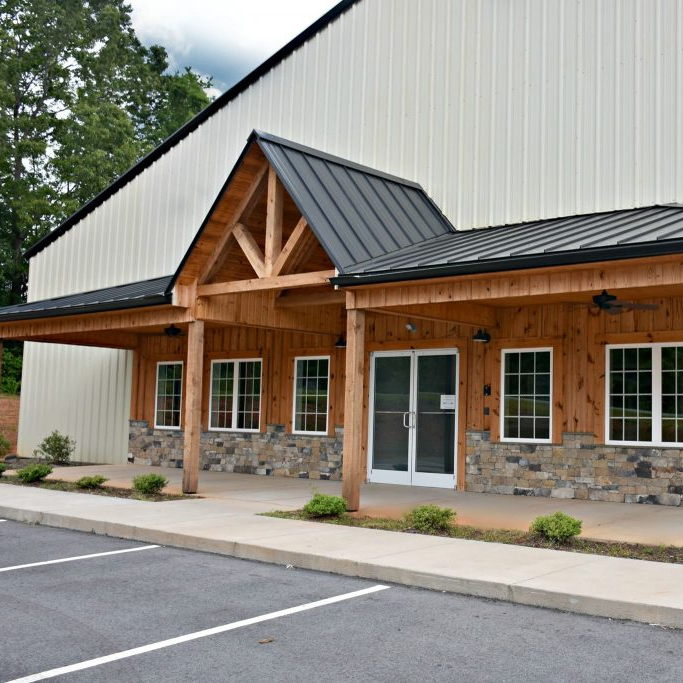 Pioneer Shredding Services
Mailing Address
PO Box 969
1300 Unifi Industrial Rd
Yadkinville, NC 27055
Why Choose Pioneer:
We will customize a plan to fit your needs


Monthly, weekly, on demand or one time purges


Secure collection containers provided for use at your location




Locked storage console, 45 gallon capacity with storage bag




Locked rolling bin, 65 gallon capacity




Locks and keys provided for customer use

Climate controlled document storage at 1300 Unifi Industrial Road, Yadkinville, NC

Non-climate controlled self storage at 232 and 311 North Lee Ave, Yadkinville, NC

Video surveillance system at all locations

Access to non-climate controlled storage 24/7 using individually assigned magnetic entry cards and/or keypad codes
Copyright © 2022 Pioneer Shredding Services All rights reserved.